News Posts
Bynasty Warriors 5!
Bringing you something a bit more interesting this time - a game by Sintax, the ridiculously prolific (Possibly 100+ games! Although probably only about ten different engines between them) Chinese developer/publisher of mostly Game Boy Color stuff. This is one of their later games, and there was a noticeable drop in quality towards the end - their earlier stuff seems to have been developed in conjunction with BBD, which I guess is where most of the talent was.
Don't be fooled by the GBA style case here - it's actually a GBC game, so it runs in GBC mode on a GBA and doesn't work at all on a GB Micro or DS.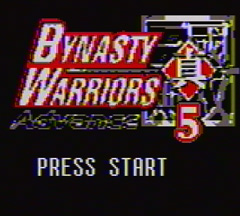 So, Bynasty Warriors (Advance) 5, then! BYNASTY WARRIORS. Just saying like.
As is customary for Sintax, this is basically one of their previous games with different graphics, namely their port(?) of Dragonball: Advanced Adventure, "Dragonball Z3", which I've never played (but have seen the back of the box of, at least). They really didn't try too hard to disguise it, considering it says "Gokou" RIGHT FUCKING THERE ALL THE TIME. The music, on the other hand, is... from the Game Boy Color version of Lemmings. Sintax used that music for everything. It's not even any good!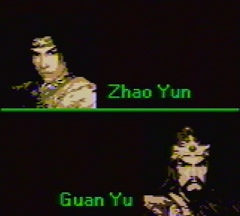 Strangely enough the one place that music isn't used is the intro, which is completely silent and consists of four static pictures, depicting some badly digitised fire, four people who probably aren't in the game, and a map of China. Totally not rushed or anything, oh no.
To their credit they have at least tried to capture the whole speedy attacking thing of the original game, but the mechanics are obviously hugely simplified to the point where all you get is a regular attack, a three-move combo type thing, and a jumping slash if you attack while airborne (although good luck hitting anyone with that). Its lack of any sound effects for your attacks also detracts from it quite a bit. The gauge on the right fills up as you kill enemies and when it's full you can do a sort of spinny move by pressing up and B or something, but I don't have a screenshot of that mainly because I can't be arsed.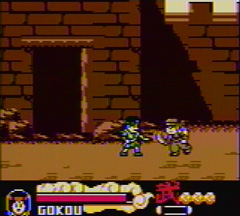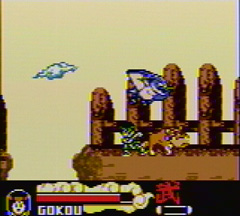 The first two levels are similar, lots of brown, basically looking the part for a bad Dynasty Warriors knockoff. They're also fairly linear, with various generic enemies and the obligatory health-restoring meat scattered around, although there are some irritating leaps of faith over insta-death pits mixed in, and the second chucks in dogs and dragons for you to fight alongside the standard dudes.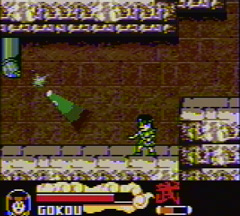 The third is a lot more mazelike than the previous two, complete with lots of security cameras like there were everywhere in ancient China (I'd say Sintax was making some kind of point about the levels of surveillance in modern China, but I'd probably be giving them too much credit). But I couldn't find the exit, and then I fell down a pit (oh you know those games where you can't tell which pits lead to a lower part of the level and which lead to your death, i just love those games)
And that's that! Suffice to say it's not a very good game. I don't know how many levels there are beyond the three I encountered, but I didn't see any bosses or anything. Their(/BBD's?) first two Shin Sangoku Musou games were way more enjoyable, so you should probably just play those. Or try to track down Dragonball Z3 if you want to see what their original pre-bastardised bastardisation of Advanced Adventure looked like.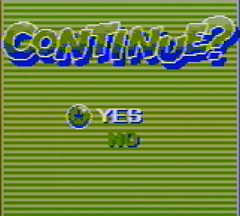 ... no thanks.
posted by taizou at 02:49:12 on 02/02/2012 in
game boy
Currently 1 comments on this post.
(Now displaying last 50 comments. Change display mode:
Last 50
/
All
)